Vintage Camper Vans
Sprinter Van based motorhomes have become very popular recently. While Mercedes Sprinters are the most common, some are based on Ford Transits or Dodge ProMaster vans as well. Some of these are custom built using new or used vans, and some are brand new factory built units by companies like Winnebago.

Rehabbed or updated vintage trailers have also been very popular over the last few years. These are sometimes small "canned ham" campers or larger Airstream or similar trailers. Many of these feature beautiful vintage aluminum bodies and either vintage interiors or modern interiors.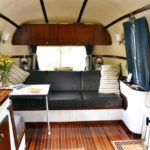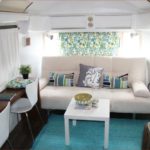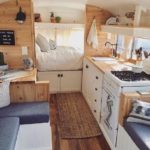 New Camper Vans start at over $100,000, and used ones, if you can even find one these days, can easily be $50-80,000. Vintage campers can be as little as $15,000, but true vintage RestoMod campers are often $30-50,000.
I've watched these two trends with interest. We are neither a camper manufacturer or camper restorer, but we believe there is a lot of opportunity for us to use our expertise to update and modernize vintage motorhomes in a similar manner to updated vintage camper trailers, with an emphasis on function and efficiency. We think there is room for RestoModded Vintage campers starting around $25,000 which can provide the amenities of a modern van and the unique interest of a vintage chassis that is different than the average van.
But our vision of what could be is hard for some to picture, so below I'll walk through a few examples of what we could do with a vintage motorhome. After you read through this, we'd love to talk to you about a project for you!
Vintage Van Conversions
This seems like a very modern trend, there are many older converted vans out there that were built on commercial chassis. These Chassis include Vanettes, Metros, Route Vans, etc. Many of these are essentially functional, but in need of remodelled interiors, new appliances, and a modern driver-train. These will tend to be more expensive options as these vans have become popular for food trucks and other uses.
We featured this vintage Dodge Route Van previously. It was converted, likely in the 70s, but has been sitting for a long time. The 1940s vintage chassis is not ideal for modern use, so this could be updated with a chassis swap similar to the Route Van food truck that we built previously on a modern pickup or SUV chassis. Update the RV systems with that and you could have a very unique and cool vintage RV.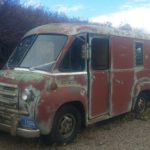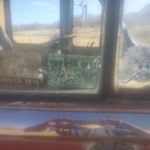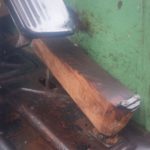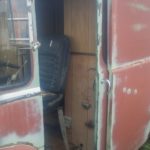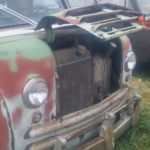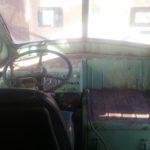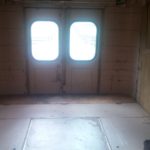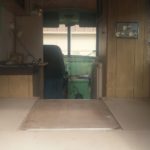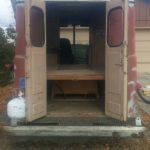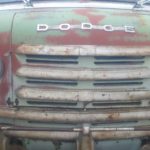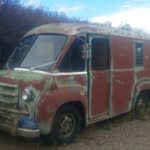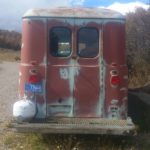 Vintage Motorhomes.
There are a variety of older motorhomes on the market that are very inexpensive, and mostly functional. These are often dated, dirty, and have terrible drive-trains.
1975 GMC 26ft motohome – This older motorhome is the classic GMC fiberglass motohome with a front wheel drive V8 drivetrain. This one looks fairly clean and complete. It needs tires and likely some other work and asks $8500. There is a lot of cleaning, likely some updating and repair of the RV systems. The interior could be restored as a vintage interior or could be modernized.
The original drivetrain could be used as-is as its a reliable GM engine and transmission, it could be updated with EFI and updated ignition controls, or it could be swapped out for a modern drivetrain. A front wheel drive V6 SUV drivetrain from a modern Equinox or Traverse might do the job, or an LS V8 might provide better torque. All of these would be cleaner, use less fuel than the original drivetrain.
This 1977 Dodge Tradesman is already fully restored and in great shape. It's pricier at just under $30k and usable as-is, but could also be updated with EFI or a modern drivetrain from a RAM pickup or Dodge / Jeep SUV. 
This 1975 Ford Coachman class B motorhome represents a common "small" vintage motorhome. There are many of these out there that need updating or full restoration / rebuild. Most of these are powered by Ford V8 engines, commonly the BBF 460CID engine. These engine make great power but burn a lot of gas. A great opportunity here would be to swap in the 3.5L Ecoboost V6 from the modern F150. That would provide more power and be far cleaner while burning a lot less gas. 
The interior of these could be simply updated or it could rebuilt to a modern standard. All of the RV systems could be updated or repaired as well to meet modern standards. 
This RV is only asking $500, but there are many in the $2-5k range.  
We'd love to talk to you about building a RestoMod RV as a unique alternative to a modern Sprinter / Promaster / Transit based motorhome. Please give us a call or send us an email to discuss how we might build you a camper van that is cooler than a Winnebogo and cheaper as well!
© 2018 – 2021  Hennepin Restomods LLC